Roblox Phantom Forces Script | Unlock All Guns & Attachments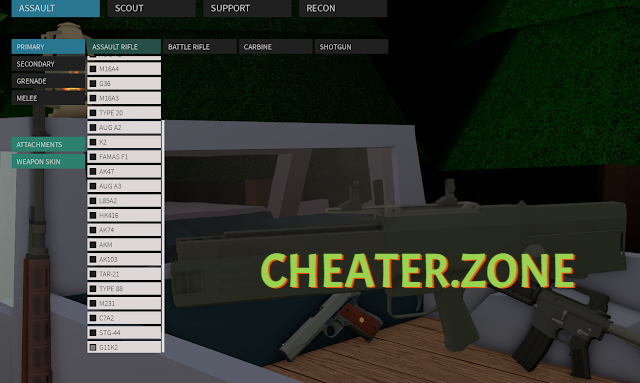 About the Game
What even is Phantom Forces game, you might ask. It is a fair question. I believe it ts very important to fully learn about the game before you start using the script. Let's start with the basics.
The game's two primary factions are two groups known as the Phantoms and the Ghosts. The Ghosts have an orange tint, whereas the Phantoms are characterized by their blue color. Based on a console message, it is believed that Americans are Phantoms while Egyptians are Ghosts. On each map, there are multiple different, team-based, static spawn points for each team.
The game also has sophisticated and distinctive movement mechanics (all of which are covered in Controls). For guns, the game has programmed bullet drop, muzzle velocity, and external ballistics mechanisms. Phantom Forces stands apart from many other Roblox FPSgames thanks to these qualities.

About the Phantom Forces Script
Assuming you have understood the logic of the game, let's talk about the Phantom Forces Script. This script has only thee main features, but do not let that disappoint you. These three tools in this scripts are very useful in the game and they are all you need. Firstly you get the access to all the weapons in the Phantom Forces game including the admin weapons. You having access to all weapons means there is basically no one to stop you from winning. On the other hand you will be a better player at playing and controlling not only the weapons but also the game in general.
Third feature of the Phantom Forces Script is the access to all the attachments in the game such as weapon attachments and bombs, which are mostly used for tactical execution of the round.
Features of the Phantom Forces Script
Unlock All Weapons
Unlock All Attachments
Unlock Admin Weapons
How to Install the Phantom Forces Script
Get the script down below
Download an exploit
Paste the script into the exploit.
Let the exploit run.
The script should be working, have fun!