Mining Simulator 2 Script | Auto Mine, Auto Sell & MORE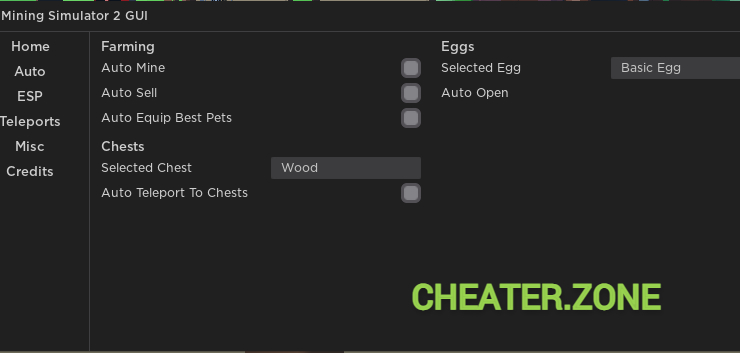 Mining Simulator 2 Script  is one of the most popular scripts in Roblox nowadays. The second version of this Roblox game consists of similar things where you team up with other people and explore the depths of the mines to discover rare materials and ores to sell. There are also a lot of different eggs for you to hatch and pets to collect. The second game is an improvement of the first version of Mining Simulator and it is being played by millions of people these days.
This Mining Simulator 2 Script is dedicated to this version of the game and it includes tons of different tools for you to get better at the game. One of the most useful tool is auto mine and it mines the rare materials and ores automatically.  An another useful tool is the ability to teleport to chests automatically when you need. This way you can acquire these rare items before everybody else and use it for your own good.
Another great feature of this Mining Simulator 2 Script is auto sell and auto equip the best pets. Auto sell will save you a lot of time while you are playing the game and so will auto equip,, because you will be able to do these without much effort. And last important feature of this the ability to rejoin the sever anytime you get kicked for any reason E.g. for being AFK.
As you can see this script involves a lot of useful tools for you to have more fun and progress quickly at the game without getting bored. In the following you will see the complete list of these features in this Mining Simulator 2 Script because it has more features than you think! 🙂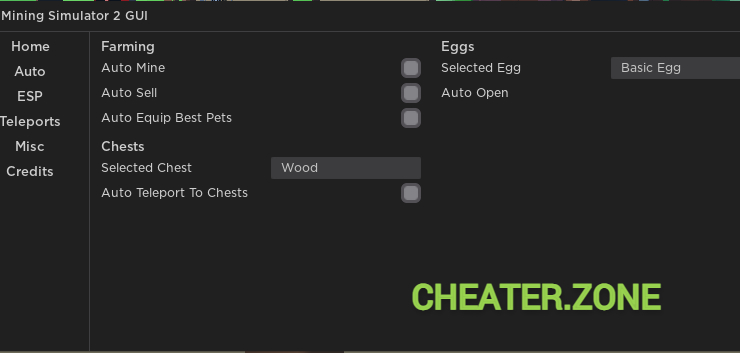 Features of the Mining Simulator 2 Script:
Auto Mine
Auto Sell
Auto Equip Best Pets
Auto Teleport To Chests
Auto Open Eggs
Teleports:
Sell
Surface
Hidden Treasure
Frozen Depths
Gloomy Basin
Molten Core
The Underworld
Anti AFK
Rejoin
Serverhop
How to Install the Mining Simulator 2 Script:
Firstly, do not forget to get the script down below, you are going to need it in a second.
Secondly, you need to download an exploit.
You are going to run the exploit and paste the script into it. It is going to inject it into Roblox automatically.
The Script is going to work and you are going to have a lot of fun whilst using it!